The foundations have been laid and the conservatory company's brand new Caulfield/Solarlux showroom is on track for its scheduled launch date in September 2014.
The management at the Caulfield Conservatory Co are pleased to announce that work is well and truly underway at the site of their brand new showroom.
Over the course of the last few weeks, the development team have been hard at work preparing for the build. The foundations have been laid, concrete has been poured, the car park has been cleared and the very first bricks have been set, marking the start of a two month building process that will eventually culminate in the UK's very first outdoor showroom that will showcase the latest innovations from German manufacturer Solarlux, alongside other luxury conservatory products from both local and international home design houses.
The showroom will nestle near the grounds of the stately home of Harewood House, which is located on the main commuter road between Leeds and Harrogate in Yorkshire.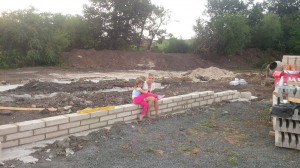 "We're delighted with the progress on the site so far and are enjoying seeing the showroom come together," says Mark Caulfield, Managing Director at the Caulfield Conservatory Co. "We're working around the clock to ensure that the development is ready for launch in the autumn and see no reason why our team shouldn't complete the structure on time."
The Caulfield Conservatory Co is one of only a small selection of firms that have been assigned Aktiv Partner status by Solarlux, which is famed worldwide for its exceptional quality folding glass doors and glass extensions. Click here to learn more about Solarlux.
Boilerplate:
The architects at The Caulfield Conservatory Co specialise in designing and installing stunning bespoke conservatory designs that are constructed using only the finest quality materials. As a preferred partner of leading industry manufacturers Solarlux, the team are able to incorporate innovative design elements into their structures to create bespoke conservatories that not only make the most of the space available to the homeowner, but also maximise the value of the property.
Press Contact:
Mark Caulfield
mark[at]caulfieldconservatories.co.uk
01423 561156